Wedding Planning
Weddings...Simple to the Extremely Elegant...

Picture if you will...
The happiest day of your life. The day when dreams come true, beliefs get realized, and all your hopes and wishes become reality. There are a million things that go into planning your day. Wouldn't it be great if the most memorable part, the part with the most impact on you and your honored guests, was guaranteed to go off without a hitch? We at Atlantic Coast Entertainment know how important your special day is to you. We have over 50 years combined experience making absolutely sure, your Wedding Reception...will be all it can be.
What will you remember?
Be honest...the things you'll remember about your "Special Day" are how excited you were when you were introduced for the first time to those people that you hold near and dear to you with your "Personalized Introduction", "Your First Dance"...that magic moment when you both gaze into each others eyes surrounded by the ones you love, "The Father Daughter Dance"...with that perfect song that brings a tear to his eye as he realizes that Daddy's Little Girl is finally all grown up.
So what is "most" important to you?
The Cheese Platter? An Ice Sculpture? ...Or having your Atlantic Coast Entertainer keeping you and your guests partying & dancing until they have to turn up the lights announcing last call as you make your long anticipated escape to your honeymoon destination? When it comes to "Special Events" during your reception like ...your bouquet and garter toss, don't you want the best time possible?
The answer is a simple, yet resounding "Yes!"
Planning Your Special Day
When you think of all the events in the course of your life...your Wedding Day will probably be the most elaborate. If you really think about it, your actual Wedding Ceremony lasts anywhere from five minutes to a little over an hour and the Wedding Reception can usually last from four to six hours, but the planning for this can take many months and even years.
With so many details to remember, The Location, The Food, The Cake, The Photographer, The Videographer, The Flowers, The Favors, The Centerpieces, The Limousine, The Rings, The Bridal Gown, The Tuxedos, The Invitations, The Garter, The Bouquet, and last and most importantly your Entertainment...it's easy for any couple to become overwhelmed in no time. That's why your only choice for quality entertainment is Atlantic Coast Entertainment.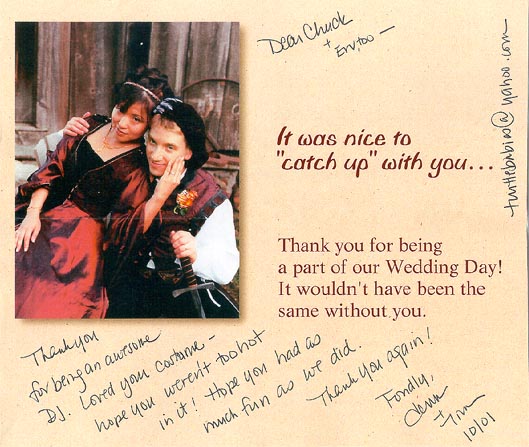 Tim and Jennifer Kwait's Medieval Theme Wedding Reception at the Wright's Mill Tree Farm in Canterbury CT 9/08/01.
Their Reception was a featured "Real Wedding" on www.TheKnot.com

and Atlantic Coast Entertainment was there...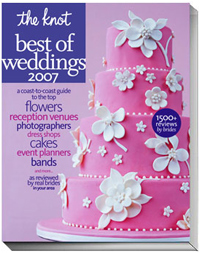 Tim and Jennifer Kwait also had their wedding featured as a Real Wedding article in the 2007 issue of The Knot "Best of Weddings"