Anniversary celebrations began in medieval times when people celebrated 25 and 50 years of marriage. A husband would crown his wife with a wreath of silver for 25 years and of gold for 50.

The tradition of gold and silver wedding anniversaries has stuck, but there is now a long list of other named anniversaries to accompany them. Each represents a different facet of the couple's commitment, the stage their relationship is at and the number of years they have been together.
Your 15th wedding anniversary is sometimes considered to be one of the first "big" ones. You two could take the time to renew your vows to each other. You can make the service as formal or informal as you like, have a civil or religious ceremony, or fly to an exotic location to do "I do" all over again.
Silver weddings have a long tradition. In medieval Germany, husbands gave their wives a wreath of silver when they had been married for 25 years. 'Sylver brydells' are mentioned in an English church record of 1624, and the term 'silver feast' is attributed to the Germans in a letter to Dr Samuel Johnson in 1806.
Couples may want to buy something to special to commemorate this first major milestone in their relationship. Choose a theme of silver items to celebrate your 25 years together - this could be a lovely silver frame for one of your wedding photographs, or even a piece of jewelry for each of you.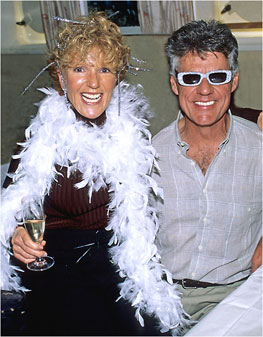 Both scientists and explorers Mr. & Mrs. Lynch
celebrated their Silver Anniversary in Antarctica in 2000.
Image copyright by Dr. Wayne Lynch ©
For your 30th anniversary the representative stone is Pearl. In Indian mythology, pearls are said to be dewdrops from heaven that fell into the sea. These jewels represent peace, nobility and beauty, and would make a wonderful gift - but if you can't stretch to pearls, use their color as an inspiration for a beautiful white gift, or just get romantic over a dozen oysters. Make your 30th anniversary night an evening of Champagne, caviar and music!
The 40th wedding anniversary is considered to be one of the most important after the 25th. Not surprisingly it's been attached to one of the world's most precious gems. Rubies are said to be rarer than diamonds - they symbolize health, wealth and wisdom and, of course, passion. Color your 40th wedding anniversary party location with different tones of red, blush, and burgundy. Or buy some vintage bottles and invite your party guests to toast the future and the past in vintage ruby port or red wine.
You've spent half a century together - what better cause for a celebration? Golden weddings have been marked for many years. In medieval Germany, men would present their wives with a golden wreath on their 50th anniversary. This was said to symbolize harmony. For your Golden Wedding Anniversary throw party. Relive your wedding day. Make it complete with a dress, the cake and music! Going for gold is the obvious choice for a 50th wedding gift and you may want to use the opportunity to buy each other new wedding rings to add to your old ones. You could even have special inscriptions made inside the rings to mark the occasion.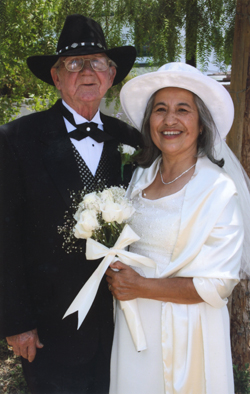 James and Jennie Smith celebrated their
50th wedding anniversary in August of 2007.
The Smiths were married Aug. 31st, 1957,
at the Trinity Temple in Compton.
After 70 years together, you've earned your own platinum record. And like the metal, your marriage is strong, precious and rare. Eternity rings are a popular anniversary present. Of course, you can buy one whenever you feel like it, but it might be an ideal gift to mark a special anniversary like the 70th.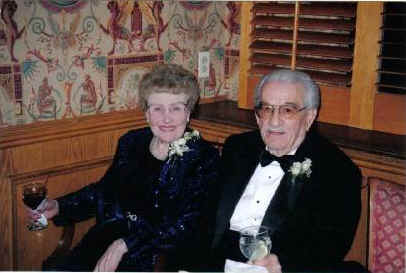 Roxy, 91 and Frances, 89 Vendena celebrated their 70th
Wedding Anniversary on May 1, 2007.
Image provided by Judy Speas.

Joan and Laurie Blackmore have now been together for a lifetime.
They Celebrated their 70 years of married life in 2006.
They were married on June 20, 1936.
Image by British Broadcasting Corporation © 2002-2007

The Diamond represents the 75th wedding anniversary. Diamond anniversary parties will probably include generations of family and friends and should be an event to remember. Make sure someone is on hand with the video camera to get it all on tape.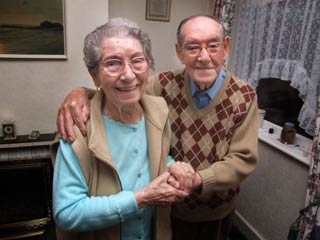 Bill and Peggy Turpin, both 95 celebrated 75 years of marriage on September 24, 2007.
Peggy said: ďWe donít agree on everything. We have are own opinions and
I think thatís important for a good marriage."
Image by Helen Hunt of Liverpool Echo.
Few couples have celebrated more than the 80th anniversary and we have yet to find a couple who have celebrated an anniversary higher than the 85th together.
Liu Yung-Yang, 103, and his wife Yang Wan, 102, a Taiwanese couple, celebrated their 86th anniversary together in 2003 and hold the record for the longest married couple in the world, they beat the previous record of 83 years by a couple from America. of the couple celebrating their 85th (Sapphire and Diamond anniversary) They got married in April 1917, two years earlier than the American couple - William and Claudia Lillian Ritchie of Lexington, Kentucky. The couple got married in their late teens, but have been part of each other's lives for even longer.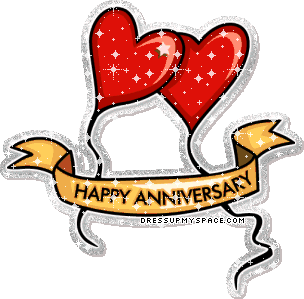 Choose to make your next Anniversary extra special with the party professionals from Atlantic Coast Entertainment...
From conservative to all out party, we will help you plan the perfect atmosphere to celebrate your special day. Don't worry motivating guests...it is our specialty. Dance floors get a major workout at our affairs because we know how to get your guests excited and involved in the fun.
Key Benefits
Professional Appearance
Professional Attitude
Professional Sound System
*Deluxe Package includes a Full Professional Computerized Lightshow
*Deluxe Package includes Special Effects (like Bubbles, Smoke, & Haze)
Pricing
| Description | SKU # | Price |
| --- | --- | --- |
| 3 Hour Basic Anniversary | 3hrAV09 | Please Call |
| 4 Hour Basic Anniversary | 4hrAV09 | Please Call |
| 5 Hour Basic Anniversary | 5hrAV09 | Please Call |
| 6 Hour Basic Anniversary | 6hrAV09 | Please Call |
| Extra Hour | ExtraHRAV | 125.00 |
| 3 Hour *Deluxe Anniversary | 3hrDAV09 | Please Call |
| 4 Hour *Deluxe Anniversary | 4hrDAV09 | Please Call |
| 5 Hour *Deluxe Anniversary | 5hrDAV09 | Please Call |
| 6 Hour *Deluxe Anniversary | 6hrDAV09 | Please Call |
| Extra Hour | ExtraHRAV | 125.00 |
Looking to add some extra fun...check out our available Add On's
---
© 2005-2007 Gleez.com, All rights reserved.
© Copyright 2008 City of Bellflower. All Rights Reserved.
© 2008 owned by or licensed to Trinity Mirror North West & North Wales Limited.
© BBC News. http://news.bbc.co.uk/
© Beacon Support Services Ltd.