Introductions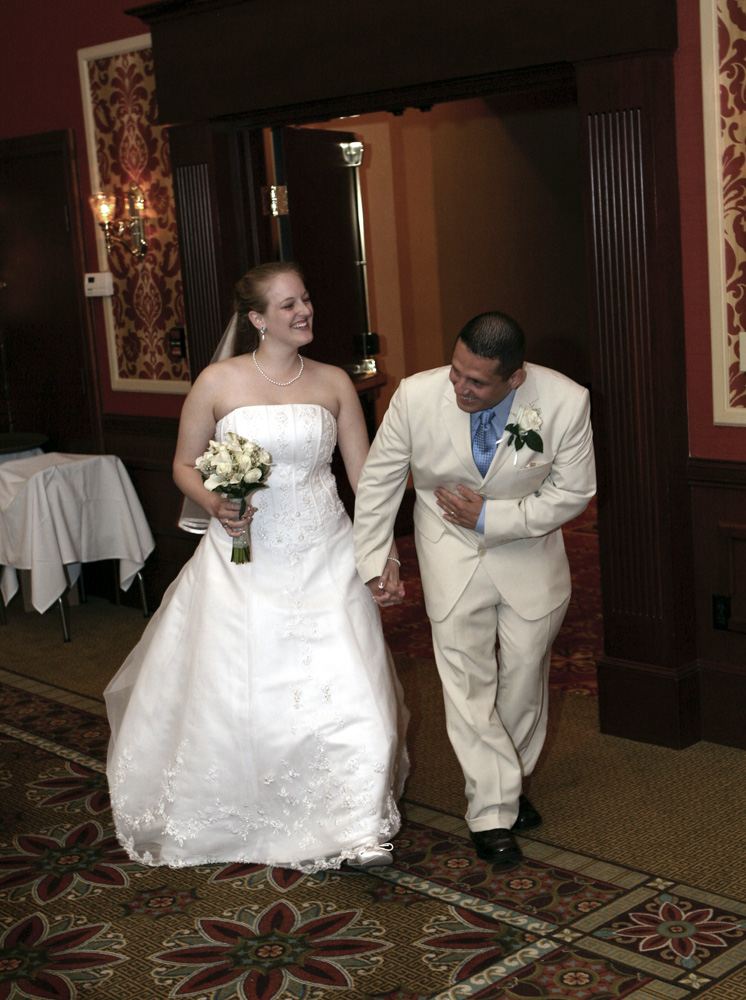 Your Introductions...Your Way!
Here are is a small sample of what your introductions could look and sound like. Keep in mind that we custom tailor your introductions to your specific event. Choose current music for a modern feel or mix in classic tracks with whatever else you can imagine. You choose the music soundtrack to your introductions as well as the way the Master of Ceremonies introduces everyone from your Family, Friends and Wedding Party to the Bride and Groom.
Sample Introduction Songs
This is a small selection of music that you could use for introducing your Bridal Party and the Grand Entrance. Just remember that you can choose any song or theme that you desire. Like a certain TV show or Movie?...Incorporate that as an introduction background or pick your favorite song. The choices are almost limitless.
Black Eyed Peas – I Gotta Feeling
Black Eyed Peas – Let's Get It Started
U2 – Beautiful Day
Chris Brown – Forever (See the Famous YouTube Wedding Entrance Video Here)
T.I. ft Jay-Z – Bring 'Em Out
Michael Franti & Spearhead – Say Hey (I Love You)
Pink – Get The Party Started
Kool & The Gang – Celebration
Survivor – Eye Of The Tiger
Natalie Cole – This Will Be (An Everlasting Love)
Beyonce ft Jay-Z – Crazy In Love
AC/DC – Thunderstruck
Beatles – All You Need Is Love
Taio Cruz – Dynamite
Queen – Another One Bites The Dust
Dropkick Murphys – I'm Shipping Up To Boston
Guns N' Roses – Welcome To The Jungle
2 Unlimited – Get Ready For This
Europe – The Final Countdown
Sister Sledge – We Are Family
Michael Jackson – The Way You Make Me Feel
Right Said Fred – I'm Too Sexy
Run DMC ft Aerosmith – Walk This Way
Kesha – Tik Tok
Coldplay – Viva La Vida
Queen – You're My Best Friend
Verve – Bitter Sweet Symphony
Justin Timberlake – Sexyback
Usher ft Will.I.Am – OMG
Usher ft Ludacris & Lil' Jon – Yeah!
Stevie Wonder – Signed, Sealed, Delivered I'm Yours
Nat King Cole – L-O-V-E
Katrina & The Waves – Walking On Sunshine
Jason Mraz – I'm Yours
ZZ Top – Sharp Dressed Man
Alan Parsons Project – Sirius (Chicago Bulls Theme/Ricky "The Dragon" Steamboat Theme (WWF/WWE)
Bill Conti – Gonna Fly Now (Theme From Rocky)
Kevin Rudolph ft Lil Wayne – Let It Rock
Darkness – I Believe In A Thing Called Love
Flo Rida ft Kesha – Right Round
Heavy D & The Boyz – Now That We Found Love
Smash Mouth – I'm A Believer
Daft Punk – One More Time
Fergie ft Ludacris – Glamorous
Earth, Wind & Fire – September
Beatles – With A Little Help From My Friends
Ozzy Osborne – Crazy Train
AC/DC – Back In Black
Rob Base & DJ E.Z. Rock – It Takes Two
Fratellis – Chelsea Dagger
Battle Without Honor or Humanity from the Kill Bill soundtrack
So Right - Dave Matthews Band
Everlasting Love - Carl Carlton
You're the First, My Last, My Everything - Barry White
I Got You (I Feel Good) - James Brown
The Way I Are - Timbaland
he Way You Make Me Feel - Michael Jackson
Bring Em Out - T.I.
Sing, Sing, Sing - Benny Goodman
Sirius - The Alan Parsons Project