Art The Hypnotist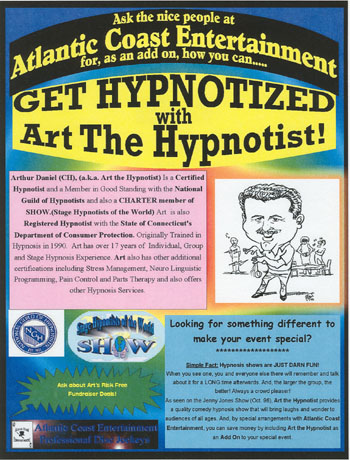 Looking for something a little different?
Looking to add a little spice to your night? Check out Art the Hypnotist...
Arthur Daniel C.H. (a.k.a. Art the Hypnotist) is a Certified Hypnotist, a member in good standing with the National Guild of Hypnotists and also a CHARTER member of SHOW (Stage Hypnotists of the World). He is a Registered Hypnotist with the State of Connecticut's Department of Consumer Protection. Originally trained in Hypnosis in 1990, Art has over 17 years of experience with individual, group, and stage Hypnosis. His other certifications include Stress Management, Neuro-Linguistic Programming, Pain Control, Parts therapy and various other hypnosis services.
Simple Fact: Hypnosis shows are JUST DARN FUN!
When you first see a Hypnotist show, you and your friends will have unique memory that will be talked about for years to come. From small groups to the largest corporate event, Art the Hypnotist delivers! Remember the larger the crowd the more fun it becomes! From kids to adults...Art is always a crowd pleaser for any age group.
As seen on the Jenny Jones Show (October '96), Art the Hypnotist provides a quality comedy hypnosis show that will bring laughs and wonder to all audiences. And, by special arrangement with Atlantic Coast Entertainment, you can save money by including Art the Hypnotist as an Add-On to your special event.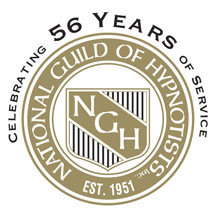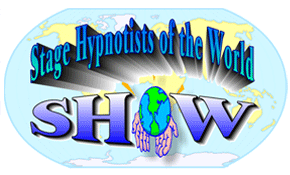 Click Here To View Art's Website

Or Contact Art Directly For More Information at 860-439-0502 / E-Mail info@artthehypnotist.com