GAME SHOW MANIA...
Where Your Favorite Game Shows Come To Life...
GAME SHOW MANIA ... is the perfect add on for all types of events. This is trivia based traveling Game Show. You can have your Host use his / her specific questions or you can provide questions with information related to your group. There are literally thousands of audio clips like TV & Movie Trivia, Music, History, Current Events, Cartoons, and much more! This will be the event or party that will have your people talking about how much fun they had!
Use Game Show Mania For Your Next...

Corporate Event, Company Picnic, Conventions, Bar / Bat Mitzvah, Elementary School Event, Middle School Event, Prom (It Is Usually Only Used During The "Social Hour"), After Prom, Lock Down, Lock Up, Fundraiser, Family Reunion, Church Social, Senior Citizen Center Event...And Lots More!
We can create the atmosphere of most any of your favorite TV Game Shows Like...
Jeopardy, Family Feud, The Price is Right, Beat The Geeks, Win Ben Stein's Money... The list is virtually endless or you can try your hand at our versions of Survivor and Fear Factor!

* The Hottest New Interactive Party Activity!
* Fasted Paced Excitement!
* It's A Great Team Builder for Corporate Events!
* Use It As A Learning Tool For Students!
* It's Just All Around Fun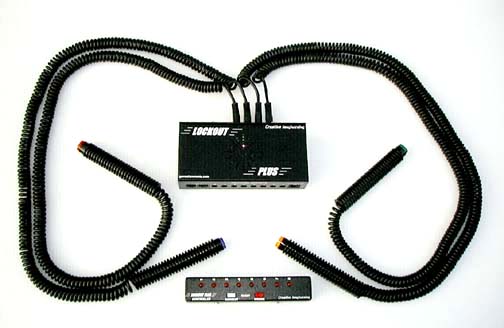 Lockout Box
Simply plug in the push buttons and you are ready to play! The first person to push his/her button "locks out" the other players. At the point of lockout the system makes a unique lockout sound. In addition, the LED on the controller and a light on the push button illuminate! When you are ready, push the "Correct" or "Wrong" button on the hand-held controller. The "Correct" and "Wrong" buttons reset the game and play the appropriate sound effect. The interface module has a built in speaker, or audio can be hooked up to any standard sound system. Each lockout channel has a switched output for activating an external indicator lamp or relay.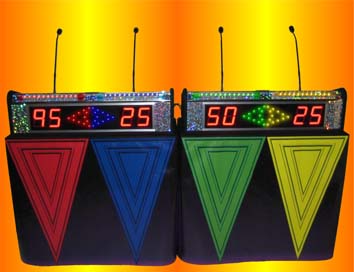 Face Off
• Wireless Remote Control for host
• Extra Large Hit Buttons
• Arrows highlighted with bright LED's indicate which player has locked out
• Two Built-in Microphones and LED scoring from 0-9
• Scorekeeping is automatic with wireless remote control
• Built in sound effects for lockout
• Sounds for Correct & Wrong answers enhance the game show experience
• Audio output for easy hook-up to standard sound system
• Easily hook up two units and create a four player Game Show System
• Play a wide variety of trivia games
• Emulate popular Feud type games
• Play audience friendly face-off games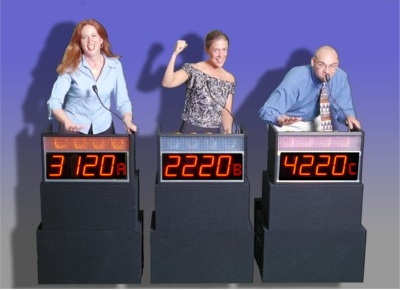 GSS-4 Game Show System
• The GSS-4 will control from 1 to 16 Player Positions!
• Play Lockout, Multiple Choice or True/False. The GAME SELECT button allows you to easily switch between games.
• Scorekeeping and microphone activation are automatic during normal game play. You can also manually turn a player microphone on or adjust a player's score.
• The SCORE INCREMENT buttons allow you to select the point value to be added or subtracted from 5 preset values for correct or wrong answers. The preset point values can be easily changed.
• The CORRECT, WRONG and PLAY buttons are scoring and reset buttons. Pushing one of these buttons will reset the system after a player has locked out while in the auto-play made. The CORRECT or WRONG buttons automatically increase or decrease the player's scare by the amount selected in the score increment section. The PLAY button resets the system without changing the score.
• The sound mixer section has five inputs as follows: Host Microphone, Player Microphones, Effects (internal controller sound effects), CD (stereo line input #l), Aux (stereo line input #2). The CD input will automatically mute when a player locks out. This is very useful if you are playing Game Show Mania or name that tune etc.
• There are a total of 28 internal sound effects as follows: 16 for player positions, 8 for host sound effects, and 4 for game sound effects. You can assign any one of the player sound effects to any of the players. The host sound effects can be played at any time by the push of a button an the controller. The game sound effects are for correct and wrong answer, countdown timer reset, and auto reset. All internal sound effects can be rerecorded with your favorite sound effects.
• By simply accessing the MENU section you can do the following and much more: Re-record sound effects, assign different sound effects to each player position (a choice of 16 sound effects), change the preset point values for correct and wrong answers. select team play, turn the automatic reset or countdown timers on/off, adjust the chase rate of the player position lights.
Pricing
| Description | SKU # | Price |
| --- | --- | --- |
| Game Show / "Lock Out Box" for 4 Contestants | Game Show | 150.00 |
| Game Show "Face Off Podium" / for 2 Contestants or 2 Teams of Contestants | Game Show | 250.00 |
| Video Dance Party / DVD Music Videos / Video Projector / BIG 4' x 5' Screen (To Project Trivia Questions on Big Screen) | Video Party-1 | 350.00 |
| Video Dance Party / DVD Music Videos / Video Projector / BIG 6' x 8' Screen (To Project Trivia Questions on Big Screen) | Video Party-2 | 550.00 |
| Video Dance Party / Drape Kit for BIG 6' x 8' Screen | Video Party-3 | 100.00 |